$40.00
Margret Truman daughter of Bess and Harry Truman writes about her parents. Their love for each other, their patriotism to country and their beginnings.
Description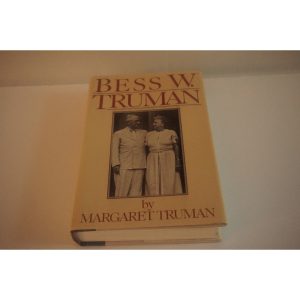 Bess W Truman
When a daughter tell her parents story everyone listens. The biography Bess W Truman by Margret Truman speaks to the relationship of her parents. The fact that her mother was not only the first lady but the woman behind the man. A woman of substance. She was very involved in his political decisions, including the dropping of the atomic bomb.Bess is a patriot in her own right. Margret reveal that her mother was born in a family of strong ideas as she lived in a very secure world.
Bess explored sports,swimming, horseback riding and baseball and excelled at all three.Harry and Bess seemed an unlikely pair because they come from different wolds. She being a debutante and Harry a simple country boy.However once he set his sight on her ,not with -standing her shying away from him, he never gave up. His romantic letters are the proof.They would be happily married, spending the next sixty-nine years of their lives together. This first lady proved to be not only a woman of substance but a true asset to her country.