$50.00
Margret Mitchell a distinguished writer well known for her magical, all time great book Gone With The Wind. It is a love story to die for. And now years after her death, new writing are found and published.The new novel Before Scarlett, is  Margret's  girl hood writings.
Out of stock
Description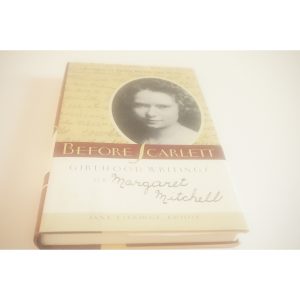 Before Scarlett A novel by Margret Mitchell
Margret Mitchell is well know for her outstanding novel Gone With The Wind. Now several years after her death new writings are found and published to brings another outstanding work Before Scarlett.
Before Scarlett, gives us an  insight into the life and thinking of eight year old Margret Mitchell. She writes about the love of her life, fairy tales , poetry , letters and notes all going through her childhood                                                              years. Although Scarlett left a note requesting the destruction of these materials they were kept Need-less to say the world is better off for having red her work. Stories of honest heroine , of fairies using their magical powers to make beauty,not only for her but others.She was young but selfless.Even as a older person she demonstrated caring as seen in the grown up love story Gone With The Wind.
Her Goals   
Yes, there were villains but they   were  subdued. Margret's poetry focused on love, fairness loyalty and career.A career in the military would be good. Going to West Point the ultimate goal if she were a boy. Margret wanted to famous in some way; a speaker, an artist, or a writer. She declare there is a place in the bible that says"knock and it shall be opened on to you,ask and thou shall receive."Oh yes she asked, and surely was granted many talents.
As a writer she wrote one of the worlds most beloved novels. It  later became the best movie of the century, yes that move is "Gone With The Wind".The famous stars of the original movie are Clarke Gable and  Vivien Leigh string as Scarlet O'hara they did justice to the film. Her new book Before Scarlett has the potential for greatness. We look forward in anticipation, holding our breaths as we await  this movie "Before Scarlett".