$75.00
Text of Culinary Fundamentals (3 books) new still in wrapper.Books include : one book of recipes,book on culinary service and book on culinary fundamentals.
Description
Culinary Fundamentals
The text of Culinary Fundamentals,Johnson & Wales University include a book of recipes, book of fundamentals of the trade and additionally a  book of services. The culinary course introduces students to methods, & techniques, used in professional kitchens. Likewise they learn the craft , the tools  and also food safety in addition to sanitation. Students learn cooking methods ; boiling,simmering ,poaching , steaming not to mention the variety of soups, stocks also sauces they make. This text has it all, every thing you need to know about culinary and cooking is in these books . Buy now for your course or as a supplement or
enrichment to your course.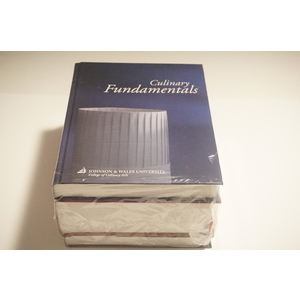 culinary fundamentals